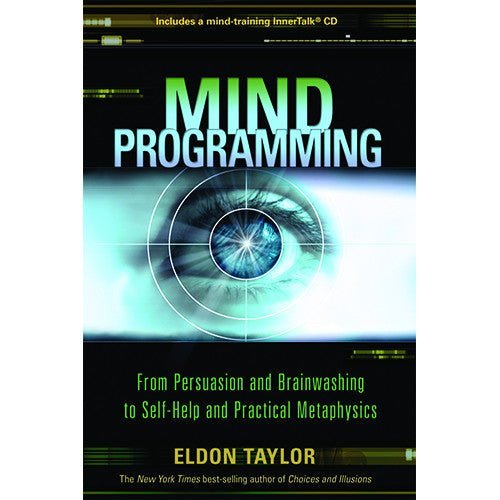 InnerTalk
Mind Programming ~ Book
---
Mind Programming: From Persuasion and Brainwashing, to Self-Help and Practical Metaphysics
By Eldon Taylor
Book + CD
— It is the 21st century and we have experienced a technology explosion that has granted us a cornucopia of luxuries and opportunities. At this point, virtually anything seems possible. However, along with the positive developments are ominous collaborations designed to deprive us of an inherent birth right—the power of a free mind.
Mind Programming is a riveting expose on the plethora of research that has been carried out simply to discover ways to control your every thought and desire. What you will learn will both shock and horrify you. Tweaking your psyche has become big business. Never again will you be able to ignore the truth—your very thoughts are not your own.
Includes the InnerTalk program: Serenity
Mind Programming provides the tools to take back control and reprogram your own mind. Eldon Taylor provides the insight, information, and easy-to-use methods that will empower you to realize the life of your dreams. You were not meant to be the product of another's manipulation, whether in attitude and mood or in ambition and consumption.
Watch the Trailer
What Reviewers Are Saying
"Brainwashing and marketing are big business; and your precious mind is a coveted commodity. In this book Eldon Taylor exposes all and tells you how to take your power back and be free to become your own best self. Eldon is really a master!"
— Joan Borysenko, Ph.D. Author of Minding the Body, Mending the Mind and Your Soul's Compass
"Mind Programming had me riveted. This book will challenge you on many levels, but the truth of it is undeniable. Understanding how we can choose to use our minds will result in a powerful transformative experience for those willing to take it on - and Eldon Taylor shows you how. For a brilliant education on why we do the things we do, and how we can do them differently, you can't beat Mind Programming."
— Bob Doyle, Featured teacher in The Secret
"Mind Programming is at once shocking and hopeful, but brilliant in its presentation. Dr. Taylor's masterpiece helps us wake up and take back the incredible power of our minds--a power we may have unknowingly handed over to those who actively work to control our minds."
— Terri Marie, author of Be the Hero of Your Own Game; CEO of White Wing Productions
"A brilliant expose of how we've become unconsciously enslaved to that which we haven't understood! Eldon Taylor exposes and explodes the old world-view of fear and lack that has generated direct and indirect manipulation of our minds without our awareness or permission. With Well-earned insight, he offers proven pathways of self-empowerment that entrain our consciousness toward the model of unity and abundance that negates the survival paradigm. In a period when fear has reached a frenzied pitch, Taylor shines a brilliant spotlight to dispel the darkness!"
— Angelina Heart, the author of The Teaching of Little Crow
"It might sound to be a difficult task to diagnose and repair the physical brain, but it is not. The complex part of the human body is something that Dr. Eldon Taylor knows well - the mind. In his great book, Mind Programming, Dr. Taylor allows us to wake up and stop sleep-walking through a life of control by forces which have directed a great deal of money and effort into keeping us in sheep's clothing. To break free, read Mind Programming."
— John L. Turner, M.D., author of Medicine, Miracles and Manifestations
B130 Available in:
Paperback Book - B130-P
Hardback Book - B130-H
---
Share this Product
---
More from this collection