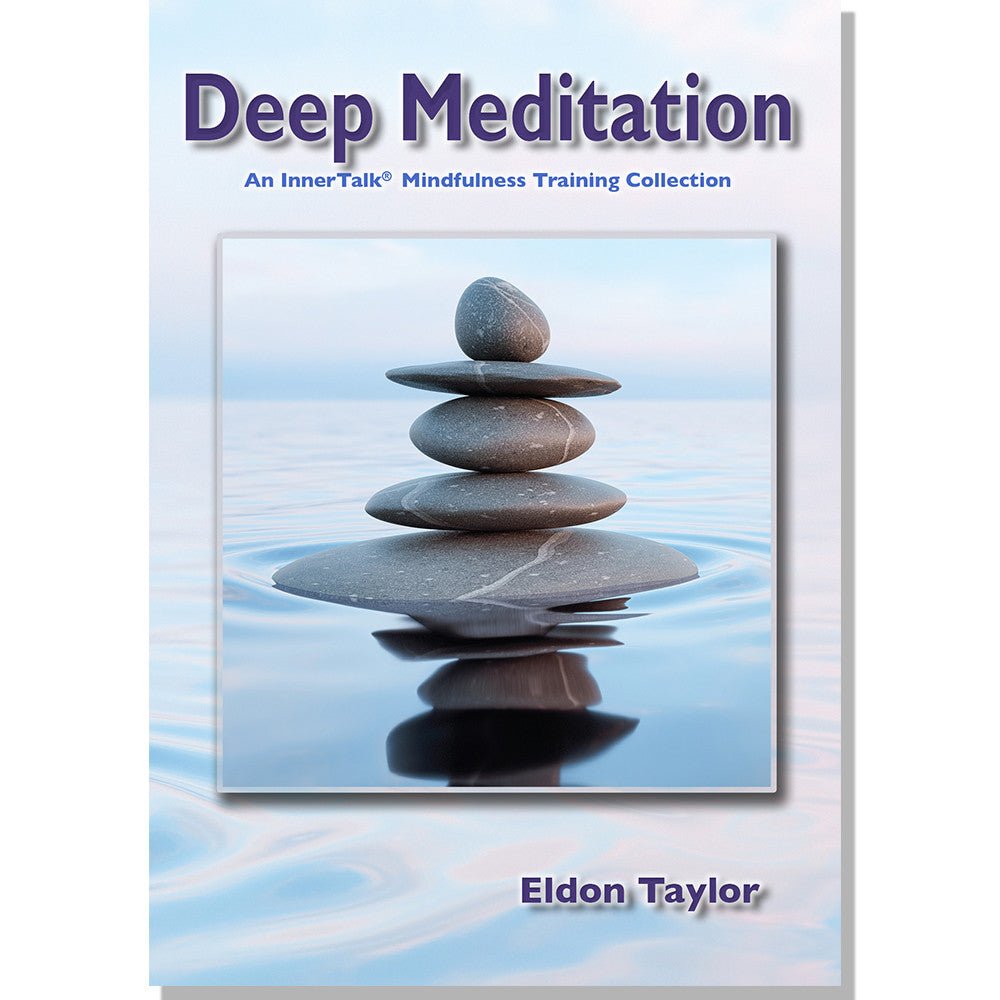 InnerTalk
Meditation (Deep Meditation) ~ Album
---
Deep Meditation
— Research has repeated demonstrated the efficacy of meditation for everything from simple relaxation for stress relief to a favored cardiac care practice.  
Today we know the power of meditation for not only producing profound states of relaxation that optimize the health of our bodies, but for the effects meditation has on our brains. The neuroscientist, Andrew Newberg, has shown that meditation fundamentally changes the brain.  It can rewire the brain and increase cognitive abilities.  Further, Newberg has discussed what he calls the God nodules, a network of activity in the brain that work together to help us experience spirituality and religion.
Whether you wish to enhance your health and wellness, increase cognitive abilities and memory, explore spirituality, awaken the sixth sense, or more, meditation is the key!
Today the meditative arts are used by sports professionals, business people, and lay alike to crystallize their thinking and manifest their goals.  Benjamin Disraeli describes this sort of use in this way, "I have brought myself, by long meditation, to the conviction that a human being with a settled purpose must accomplish it, and that nothing can resist a will which will stake even existence upon its fulfillment."
There are also many examples of so-called super-powers that have been achieved through meditation. There are those Tibetan monks who can generate enough heat in their bodies to sit in ice for days.  There are many who claim to have discovered past lives using meditation.  Powers of healing, telepathy, immunity to pain, seeing the future, and more have been documented among life long meditators.  Most importantly, tranquility, peace, balance and harmony often are the result of regular meditation.
Bottom line, whether your objective is health and wellness, enhancing cognitive abilities and increasing memory, spirituality, waking the sixth sense, or the exploration of those hidden powers, meditation is the vehicle of choice. 
This album will lead you on the path to deeper insights and a more meaningful understanding of yourself and the world around you.  As with any journey, you set the destination, but this is your vehicle to the inner exploration that awaits you with this new powerful skill set.
Eight life changing audio programs utilizing the patented and proven effective InnerTalk technology by Eldon Taylor.
Titles Include
Audible Meditations: Answers Through Meditation, Power Meditation, The Healing Dream, and Hyperemperia,
Power Imaging: Personal Peace,
InnerTalk (in music): The I Am Presence and Contact Meditation, and
DVD: Inspirations 
Sample Affirmations
Answers Through Meditation, Power Meditation and Contact Meditation
"It's time to be still. It's time to center. It's time to let go. It's time to know no time. Relaxed. Calm. Serene. Peaceful. At peace with myself and the world around me. Quiet. Enter the quietness of spirit. Allow. Breathe deeply, evenly, rhythmically. Trust and let go. Turn within. It's okay. Everything is okay," etc.
The Healing Dream
"God dwells in all. God loves all. God is love. I am a gift. I am whole. I am giving. I am a part of the gift. I am whole as a gift. I am loving. I am caring. I am supporting. I am sharing. I am alive. I am eternal. I share myself. I live an example. I am humble. I am learning. I listen. I care. I am strong. I am honest. I am a miracle. I heal. I help. I assist. I guide. I share. I allow. I accept. I encourage. I facilitate," etc.
Hyperemperia
"I am a being of the Light. I am a facet of the One Mind. I am One with the One Mind. God created me in God's image. God knows everything. I am one with the Divine. I access the Divine Mind. I am a gift - a gift of unconditional love. I accept the gift. All that I do is in love. I expand and open my mind. I receive from the One Mind. I access the One Mind. I retain what I see from the One Mind," etc
Personal Peace
"I am calm. I am relaxed. I am in control. I create my future. I am self responsible. I am patient. I am honest. I am peaceful. I am tranquil. I forgive myself. I forgive others. I am in control. I am positive. I am honest. I am responsible. I am happy. I am confident. I am capable. I can do anything. I am one with the Divine. Honesty is oneness. I live in oneness," etc.
The I Am Presence
"Father, I call forth into your presence and use your name. God, the Father Knowing that it is the indwelling God principle that raises the rate of vibration of my body and whole being. Your name, God, resonates my being I think your name at all times God dwells within me now I am God's divine plan These are not my words, but your words, God, coming from the Christ of God within that is me God, My Father The Divine principle flowing through me is all And all that God is, I am I am the Christ of God. God/Man," etc.
Inspirations (Physical album only)
"Christ Consciousness fills my mind and being. I am vital energy. I am connected to the Mind of God. We are all One. From the One we all are. I am a creation of God. God's perfection is who I am. The All Wise knowing intelligence flows through me. I am awakened. I remember, I am enlightened. My consciousness expands. My being is unlimited and eternal. My awareness is open and receptive. I am in harmony with all life. Joy and Love are my being. I am a creation of LOVE. I am a gift of Love. All that I can be is a gift. I see God in all people and all creation. I am unconditional love. I radiate unconditional love to all. I unconditionally love and accept myself. I am worthy," etc.






Usage Guide
InnerTalk subliminal self-help / self-improvement programs feature pleasant, easy-listening music or nature sounds that are specially mixed with positive background affirmations on the chosen self-help topic. InnerTalk programs are extremely easy to use. You can simply play them in the background on any regular stereo player while you are working, driving, relaxing, reading, playing sports, even sleeping or watching TV.* The InnerTalk subliminal technology is patented, proven and guaranteed. More Information
When your self-talk changes, so does the reality you experience!
*Please note: There are some obvious contraindications. You would not play a program such as High Energy while sleeping, or a program such as Sleep Soundly while driving.
Power Imaging combines the InnerTalk subliminal affirmations with a complex, audible, guided imagery program. Power Imaging does not simply create a scene where you picture yourself succeeding; it assumes an underlying reason for your previous inability to succeed and works at both uncovering the source of the problem and in discovering the solution.
Let Power Imaging take you on a true voyage of self-discovery!
Power Imaging audio hypnosis programs require 45 minutes of eyes-closed imagery sessions. Simply close your eyes, put your feet up and enjoy the experience. More Information.
A146 Available in:
CD Album - A146CD
MP3 Album - A146E
MP3 Flash Drive - A146F
---
Share this Product
---
More from this collection