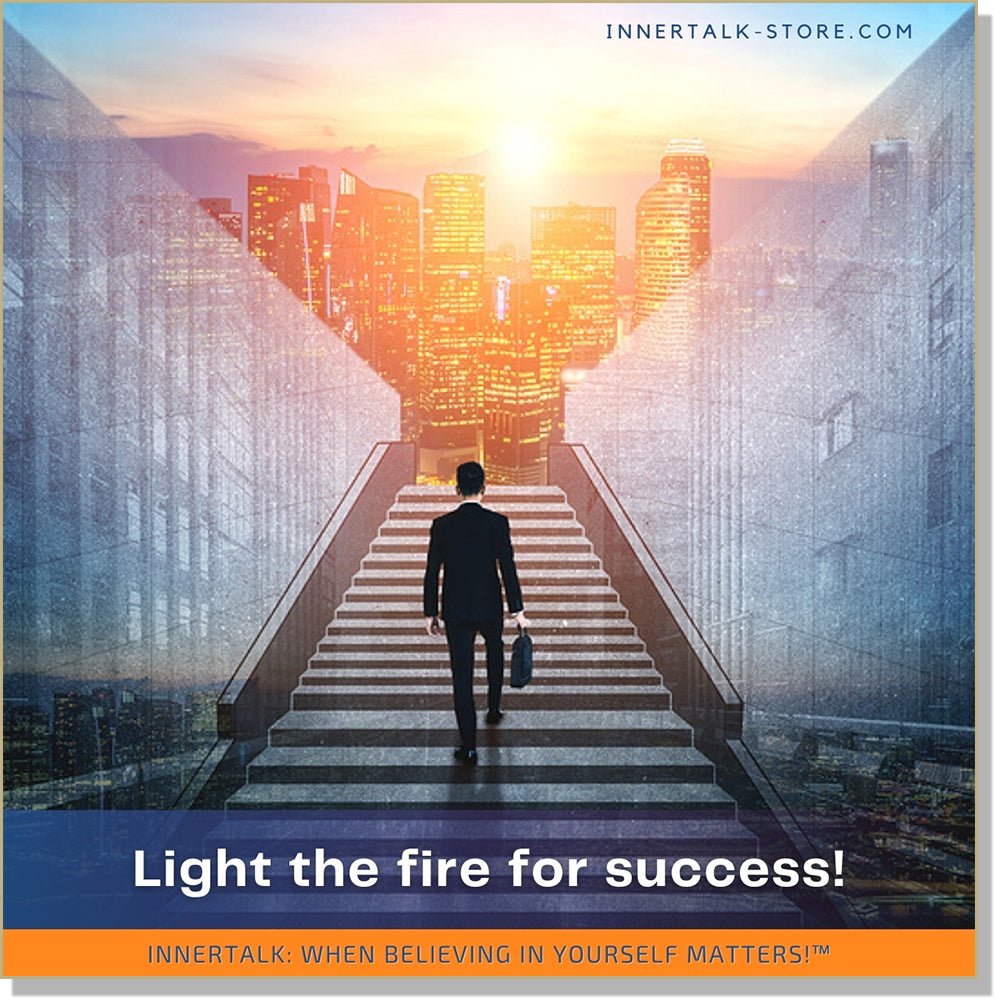 InnerTalk
Ambitious (Becoming Ambitious: Lighting the Fire for Success) ~ Subliminal
---
Becoming Ambitious: Lighting the Fire for Success
— One of the best definitions of ambition was said by Frank Tyger, "Ambition is enthusiasm with a purpose!" Helen Keller defined things this way, "Character cannot be developed in ease and quiet. Only through experience of trial and suffering can the soul be strengthened, ambition inspired, and success achieved."
Ignite the fires of ambition within! 
Ambition is the fuel that propels one on to success—whatever the personal goal. Ambition meets challenges with confidence and enthusiasm. Ambition welcomes opportunities without fear. Ambition is a form of courage that insures you will not be detoured from your objective. What's more, ambition is a character trait that can be built, trained, and honed to a fine edge, thereby providing the advantage that guarantees the essential tenacity required when difficulty is encountered.
Everyone enjoys ambition to some extent. It comes as a package of who we are but with many it manifests only when we are excited about getting something. Think on your life as a child and some gift you really, really wanted for Christmas. Remember how you pushed for that gift—this is infant ambition. That said, many believe they have no ambition. No matter how much ambition you believe you have or not—this program will ignite the fires of ambition within you. You may find your ambitiousness suddenly aflame with passion if you already possess a good deal of ambition, and you may find that it builds like steam in a heated kettle, slowly but surely until movement must occur. Either way, if more ambition is your goal—get this program now. Don't hesitate!
Sample Affirmations
"I choose success. I visualize my success. I feel my success. I am enthusiastic. I am tenacious. I am motivated. I am time wise. I use time wisely. I set goals. My goals have steps within them. I achieve my goals one step at a time. I am courageous. I am super ambitious. I am super-charged toward success. I stay at it. I persist. I am a persistent person. Every day in every way I improve. Success is mine. Success is my goal. Achievement is my path. I find solutions. I am a problem solver. I am a communicator. I believe in my own abilities. I take advantage of my advantages. I am sincere. I meet opportunity with preparedness. I strive for success," etc.
Sound Samples
Music


If you cannot see the audio player above, please click here.
Nature


If you cannot see the audio player above, please click here.
Usage Guide
InnerTalk subliminal self-help / self-improvement programs feature pleasant, easy-listening music or nature sounds that are specially mixed with positive background affirmations on the chosen self-help topic. InnerTalk programs are extremely easy to use. You can simply play them in the background on any regular stereo player while you are working, driving, relaxing, reading, playing sports, even sleeping or watching TV.* The InnerTalk subliminal technology is patented, proven and guaranteed. More Information
When your self-talk changes, so does the reality you experience!
*Please note: There are some obvious contraindications. You would not play a program such as High Energy while sleeping, or a program such as Sleep Soundly while driving.
CD401 Available In:
Music CD - CD401MU
Nature CD - CD401NA
Music AND Nature CD - CD13401
E401 Available In:
Downloadable Music MP3 - E401MU
Downloadable Nature MP3 - E401NA
Downloadable Music AND Nature MP3 - E13401
---
Share this Product
---
More from this collection