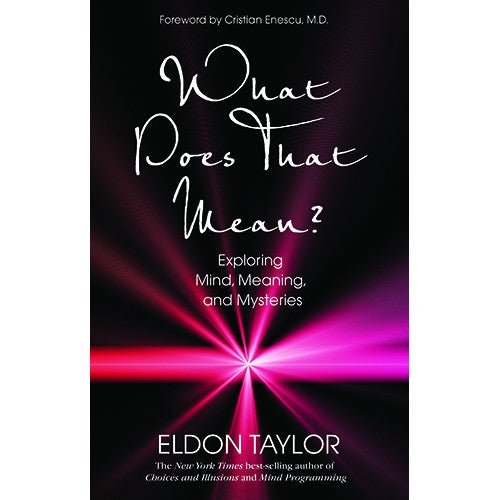 InnerTalk
What Does That Mean? ~ Book
---
What Does That Mean? Exploring Mind, Meaning and Mysteries
By Eldon Taylor
— Enlightenment is not something that can just be handed to you. The closest thing to it that you can receive are thoughts and questions that can lead you inward in the search for meaning. What Does That Mean? is full of thoughts and questions that do just that. Some insights you may have thought of and then forgotten, and others you may have experienced but simply haven't appreciated.
What the Book Does
An old saying asserts that the value of a book is not in what it says but rather in what it does. What Does That Mean? is one of those books that will have a lifetime impact on all who read it. The book squarely faces the many inconsistencies held in our systems of belief, from the sciences to psychic phenomena. Eldon Taylor is willing to speak out without reservation, and without avoiding any so-called sanctities. The result is absolutely thought-provoking at every level, as this work addresses the meaning of life and the ultimate humanness of the human being. If you have ever questioned the nature of life, the power of the mind, unexplained events, and other mysteries, you will find this book totally riveting.
Remember Who You Are
Throughout these pages, Eldon shares life experiences that will lead you to revelations about your own life. Perhaps this book's greatest value is that it assists you in remembering who you really are and thereby places you firmly back on the path to personal enlightenment. English writer and poet Joseph Addison, said, "Reading is to the mind what exercise is to the body." If that is the case, then this book is the perfect workout to enrich your thinking. You may not always like what you read, but you will always find the depth of thought wholly provocative.
What Reviewers Are Saying
"Eldon's provocative voice of wisdom and compassion places his readers right on the dot about the meaning of their individual existence. What Does That Mean? reveals how the paradoxes we face in everyday life form the rich material that invites us to confidently enter the mystery and relish it. Read, practice, and celebrate!"
— Michael Bernard Beckwith, author of Spiritual Liberation-Fulfilling Your Soul's Potential
"What Does That Mean? goes far beyond 'exploring mind, meaning, and mysteries!' It's a deeply satisfying and divinely inspired book that will not only explain so many uncertainties; it will also heal many a tattered soul. Both scientific and spiritual, strong and soft, spellbinding and soothing . . . this is a must-read!"
— Crystal Andrus, author of Simply . . . Woman! and Transcendent Beauty
"I love this book! There is something about the energetics of Eldon's languaging that breaks open my heart. It's very vulnerable, but if one possesses the courage to fully let it in and respond to it, there is great power involved."
— Anita Rehker
"Eldon Taylor is one of the world's most brilliant modern-day philosophers. What Does That Mean? is a thought-provoking, engaging read that will capture your attention and have you contemplating every aspect of life itself."
— Peggy McColl, the New York Times best-selling author of Your Destiny Switch
"What Does That Mean? is engaging, thought provoking, and quite simply a great read!"
— Christiane Northrup, M.D., author of The Secret Pleasures of Menopause and Women's Bodies, Women's Wisdom
B129 Available in:
Paperback Book - B129-P
Hardback Book - B129-H
---
Share this Product
---
More from this collection