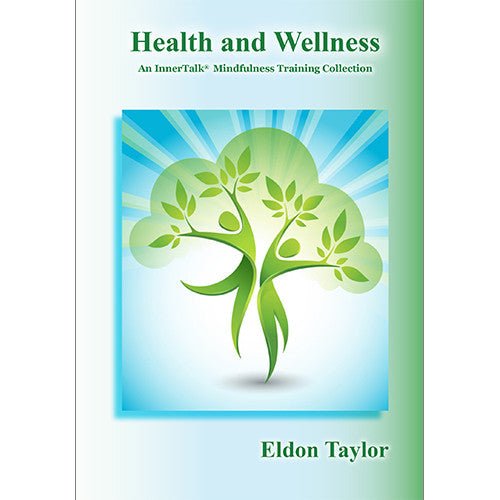 InnerTalk
Health and Wellness ~ Library
---
Health and Wellness
— There is an undeniable connection between the mind and body. Now, you can learn how to empower your mind to directly influence your body. Whether it's a matter of staying youthful, fit and healthy, or recovering from a so-called terminal dis-ease, the mind is, without a doubt, an important player in the ultimate outcome. Learn how much control you have over your own state of health and how to care for and improve your wellness with proven techniques.
Youth, Vigor, Health and Wellness . . .
treasures to be nourished & protected

This library is easy to use and to understand. It's much more than ideas and research findings—it's a practical experience with many actual exercises. You get 6 audio programs, one video, one presentation, and a booklet, all designed to train your mind to create your healthiest you! We guarantee you'll find this library more than worth the small investment.
Titles Include
Lectures: Health and Wellness.
OZO: Health and Healing.
Echo-Tech: High Self Esteem.
Power Imaging: Health and Pain Relief;
InnerTalk: Accelerated Healing and Well-Being, Powerful Immune System and Forgiving and Letting Go.
Video Entrainment: Psychoneuroimmunology
For sample affirmations for each of these programs, please see the individual titles. For greatest ease and flexibility of use, all of the subliminal titles come in the nature format only.
Sound Sample for the Subliminal Programs
Nature


If you cannot see the audio player above, please click here.
Featured Testimonial
"I used to get sick twice a year, just like clockwork. Just the seasonal cold as the seasons would change. Then I heard Eldon Taylor's presentation on Health and Wellness. It all made perfect sense to me. I have not had my seasonal colds for over 10 years now!"
R.K., WA
Usage Guide
InnerTalk subliminal self-help / self-improvement programs feature pleasant, easy-listening music or nature sounds that are specially mixed with positive background affirmations on the chosen self-help topic. InnerTalk programs are extremely easy to use. You can simply play them in the background on any regular stereo player while you are working, driving, relaxing, reading, playing sports, even sleeping or watching TV.* The InnerTalk subliminal technology is patented, proven and guaranteed. More Information
When your self-talk changes, so does the reality you experience!
*Please note: There are some obvious contraindications. You would not play a program such as High Energy while sleeping, or a program such as Sleep Soundly while driving.
OZO and Echo-Tech programs are designed for headphone use only. They consist of the InnerTalk subliminal affirmations, tones and frequencies (a mechanical way to get you into a more relaxed state and therefore more open to the affirmations) and audible coaching. On OZO the audible coaching is forceful and authoritarian whereas on Echo-Tech the audible coaching is soothing and supportive.
OZO and Echo-Tech programs should not be used when conscious attention is required, like with driving and operating machinery. More Information.
Power Imaging programs combine guided imagery (hypnosis) with subliminal affirmations. These hypnosis programs assume there is a cause for your issue and are designed to assist you in discovering this cause, along with the solution.
Power Imaging programs should not be used when conscious attention is required, like with driving and operating machinery. More Information
Video Entrainment. What you will see on your television screen is an ever changing kaleidescope of colors. Embedded in this color show are visual subliminal messages to support your goals. This technology will simply mesmerize you while filling you with a strong sense of well being. You will not only enter an altered state of brain wave activity, but find yourself so relaxed, at ease and comfortable, that it may be how you both start and end every day. Eldon Taylor simply describes the video series as "a right use of light and sound." More Information.
Please note: Our videos come in the NTSC format (the standard used in North America and most of South America). Most other regions require the PAL format. Please check your ability to play the NTSC videos before ordering.
L103 Available in:
CD Library - L103CD
MP3 Library - L103E
---
Share this Product
---
More from this collection