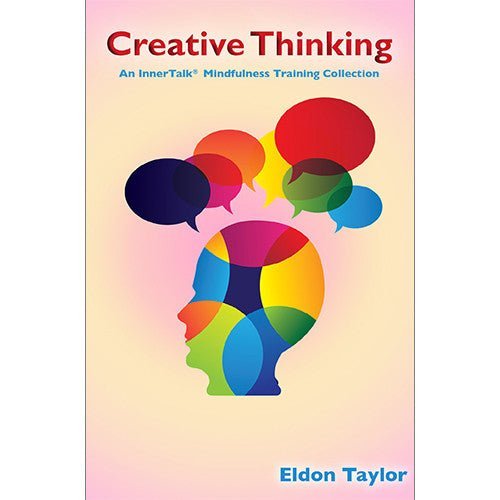 InnerTalk
Thinking (Creative Thinking) ~ Album
---
Creative Thinking
— Creativity—the ability to think outside the box—is a necessary skill, whether you're working on your next artistic masterpiece or diligently searching for a new and exciting marketing approach. This special collection of InnerTalk programs was designed with you in mind and were paired for their ability to infuse creativity into every area of your life.
It only takes one idea to change the world; one idea to build a fortune; one idea to end conflict; and one idea to change your life! Creativity spawns everything from harmony to prosperity.
It only takes one idea!
Eight life changing audio programs on seven CDs and one DVD, utilizing the patented and proven effective InnerTalk technology by Eldon Taylor.
Titles Include
Platinum Plus: Creativity, and Hyperemperia.
Power Imaging: Creativity is Natural.
Video Entrainment: Creative Genius.
InnerTalk: Infinitely Creative, Breakthrough Thinking, Creative Writing, and Empowering Intuition.
For greatest ease and flexibility of use, all of the subliminal titles come in the nature format only.
Sample Affirmations
Platinum Plus: Creativity, Power Imaging: Creativity is Natural, InnerTalk: Infinitely Creative
"I am creative. I am imaginative. I consider alternatives. I see solutions. Creativity is natural. My imagination is powerful. I relax. I channel inspiration. I succeed. I can do anything. I image. I see clear mental pictures. I see details. I see vivid mental images. I solve problems. I channel creativity. I am creative in my thinking," etc.
Platinum Plus: Hyperemperia (with audible meditation)
"I am a being of the Light. I am One with the One Mind. I am one with the Divine. I access the Divine Mind. I am a gift - a gift of unconditional love. I accept the gift. All that I do is in love. I expand and open my mind. I receive from the One Mind. I access the One Mind. I retain what I see from the One Mind," etc.
Video Entrainment: Creative Genius
"I am a genius. I claim genius. I will genius. I am quick. My mind is keen. I am intuitive. I am insightful. I dream solutions. I have the power. I have the ability. I am a genius now. I am creative. I am imaginative. I consider alternatives. I see solutions. I feel solutions. I sense solutions. Creativity is natural. Creativity is fun," etc.
InnerTalk: Breakthrough Thinking
"I am exceptionally creative. I explore possibilities. I am naturally inquisitive. I question. The language of breakthrough thinking is often intuitive. I listen to my intuition. I somehow see the same thing differently and this provides breakthroughs. Breakthrough thinking is a passion of mine. I love being creative. I love to convolute the model," etc.
InnerTalk: Creative Writing
"I have great ideas. I experience creative inspiration regularly. I organize my thoughts. I develop outlines. I plan plots. I feel the characters. I sense the story line. I experience the creative flow. I love to write. My dreams give me ideas. Writing is exciting. I love to write. I am a good writer. I pay attention to detail," etc.
For more sample affirmations for each of the programs included in this album, please see the individual titles in this catalog.
Sound Sample for the Subliminal Programs
Nature


If you cannot see the audio player above, please click here.
Usage Guide
InnerTalk subliminal self-help / self-improvement programs feature pleasant, easy-listening music or nature sounds that are specially mixed with positive background affirmations on the chosen self-help topic. InnerTalk programs are extremely easy to use. You can simply play them in the background on any regular stereo player while you are working, driving, relaxing, reading, playing sports, even sleeping or watching TV.* The InnerTalk subliminal technology is patented, proven and guaranteed. More Information
When your self-talk changes, so does the reality you experience!
*Please note: There are some obvious contraindications. You would not play a program such as High Energy while sleeping, or a program such as Sleep Soundly while driving.
Our Platinum Plus compact discs are designed for headphone only use.* They have been called a shortcut to the years and years of training normally required in order to obtain states associated with advance meditation. Platinum Plus provides an experience that will take you to new insights and adventures within. Platinum Plus includes the best of the best of cutting edge tools. More Information
The short cut to advance meditation!
*Please note: Platinum Plus should be played with headphones when conscious attention is not required. Do not use while driving or operating machinery.
Power Imaging combines the InnerTalk subliminal affirmations with a complex, audible, guided imagery program. Power Imaging does not simply create a scene where you picture yourself succeeding; it assumes an underlying reason for your previous inability to succeed and works at both uncovering the source of the problem and in discovering the solution.
Let Power Imaging take you on a true voyage of self-discovery!
Power Imaging audio hypnosis programs require 45 minutes of eyes-closed imagery sessions. Simply close your eyes, put your feet up and enjoy the experience. More Information.
Video Entrainment. What you will see on your television screen is an ever changing kaleidescope of colors. Embedded in this color show are visual subliminal messages to support your goals. This technology will simply mesmerize you while filling you with a strong sense of well being.
Technology that will mesmerize you,
while filling you with a strong sense of well being!
You will not only enter an altered state of brain wave activity, but find yourself so relaxed, at ease and comfortable, that it may be how you both start and end every day. Eldon Taylor simply describes the video series as "a right use of light and sound." More Information.
Please note: Our DVDs come in the NTSC format (the standard used in North America and most of South America). Most other regions require the PAL format. Please check your ability to play the NTSC videos before ordering.
A141 Available in:
CD Album - A141CD
MP3 Album - A141E
MP3 Flash Drive - A141F
---
Share this Product
---
More from this collection