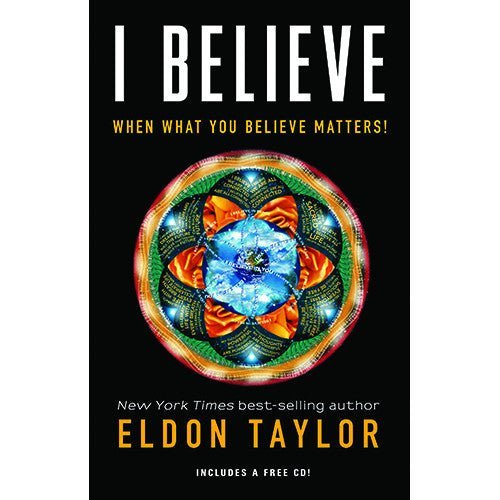 InnerTalk
I Believe ~ Book
---
I Believe: When What You Believe Matters!
By Eldon Taylor
Book + CD
— What's the foundation underpinning success in all areas of life? Is there a blueprint? What if you learned that your beliefs were the very cornerstones that supported success, and that some could give rise to success in certain areas but complete failure in others? Would you choose to build a stronger overall foundation?
Very few people today doubt the power of positive thinking. We all know that if we expect to fail, then that's inevitably what we get. There's also the issue of the mind-body connection—science is repeatedly demonstrating the power of belief to heal. What you hold to be true can and does have a huge impact on the quality of your life—from success in business to fulfilling relationships, from your ability to learn and master new subjects to your ability to heal your own body. But have you ever stopped to consider your own beliefs—to truly examine them and decide for yourself if they're serving you or sabotaging you?
Includes the InnerTalk program: I Believe
Eldon Taylor has spent more than 25 years researching the power of the mind and developing scientifically proven methods to enhance the quality of your life. I Believe is a book that will not only inspire you, it will also highlight the kinds of beliefs you hold that may be causing you to fail. In the process, it will provide you with the opportunity to choose, once again, what will drive your life.
Watch the Trailer
What Reviewers Are Saying
"I Believe is one of those special books to be experienced and contemplated not just read and the information recorded. Enjoy the journey... I did."
— Lindsay Wagner, actress and author
"Very seldom do we get a book which speaks directly to Us! Part life manual and part reminder of who we are, I Believe, will teach you ways to re-direct your belief systems and live the life you always wanted."
— James Van Praagh, Spiritual Medium
"The ancient Greek philosopher Epictetus taught his students that what happens to them is not as important as what they believe happens to them. In this engaging and provocative book, Eldon Taylor provides his readers with specific ways in which their beliefs can lead to success or failure in their life undertakings. Each chapter provides nuggets of wisdom as well as road maps for guiding them toward greater self-understanding, balance, responsibility, and compassion."
— Stanley Krippner, Ph.D., Alan Watts Professor of Psychology and Humanistic Studies, Saybrook University Co-author, Personal Mythology
"Most of us live life according to the story of who we think we are. Past wounds, disappointments, poor choices, and a gnawing awareness that we are not living life to its maximum potential in a state of harmony and joy, are a direct result of this self-limiting myth. In "I Believe: When What You Believe Matters," Eldon Taylor encourages us to activate the inner reservoir of our untapped potential and to question our prior beliefs and patterns of behavior. Creating a "new" story can liberate us to become our most authentic selves and to celebrate the miracle and adventure of life, in a world of infinite possibilities."
— Annamaria Hemingway Ph.D., Author of Practicing Conscious Living and Dying, Myths of the Afterlife, and Discovering Divinity: Sacred Symbols of the Natural World
"Eldon Taylor's book demonstrates that what we believe directly influences our health, our sense of wellbeing and even our aging process. He provides information that will help the reader to monitor and shape their own thoughts in a way that may potentially change the reader's life. The power of our minds should not be underestimated."
— Chris Carter, author of Science and Psychic Phenomena, Parapsychology and the Skeptics, and Science and the Near Death Experience
Watch the Trailer
B133 Available in:
Paperback Book - B133-P
Hardback Book - B133-H
---
Share this Product
---
More from this collection